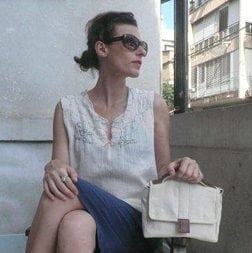 Ilan Orbach has been combining her passion for design, art and entrepreneurship for over 16 years.
A graduate in art and design, Orbach uses her knowledge and skill to playfully combine design and color. Her designs are timeless with their classic yet contemporary feel. Each piece is unique, innovative and practical.
Orbach's accessory collections have been enthusiastically received and have been featured in numerous fashion fairs and international leading fashion stores in the United States, Japan, India, Israel and the Netherlands.
Her collections were featured in leading Israeli magazines such as Laisha and Signon, as well as Timeout and Marie Claire. "Orbach's designs are an ideal combination of quality, practicality and clean design"
[Itay Yaakov, Signon magazine].
An avid traveler, Ilan incorporates images, folklore and color from Tokyo, New York, India and Far Eastern markets, bringing together urbanism, tradition and modernity.
The Collection
Ilan's new jewelry collection is sheer elegance. Her artistic vision mixes elements from the modern and industrial worlds with an unconventional use of materials. This rare combination has created a simple, sophisticated collection with a unique twist.
The collection incorporates gold, silver and black colored brass beads with other beads and textiles, creating a fun and colorful combination reminiscent of an urban painting.
The entire collection is hand-made and includes necklaces, earrings, bracelets and chic, playful scarves as well as leather and fabric wallets and bags. Orbach has created a modular jewelry collection that can be worn according to occasion and taste; a long thin necklace can be worn as a belt or wrapped around the neck and shoulders.
In addition to several timeless, elegant pieces, the collection also includes several pieces of Statement Jewelry including large and impressive pieces that can make an entire outfit.
Ilan's collection is perfect for any woman looking to feel comfortable yet exceptional.
| | | | |
| --- | --- | --- | --- |
| חנויות | טלפון | עיר | פריטים שנמכרים |
| מוזיאון ישראל | 02-6708994 | ירושלים | תכשיטים וצעיפים |
| מוזיאון ת"א | 03-6077023 | ת"א | תכשיטים וצעיפים |
| רשת "רינה צין" | 03-5235746 | ת"א, רמה"ש, יבנה וירושלים | תכשיטים וצעיפים |
| NOOK | 03-5277177 | ת"א | תכשיטים, תיקים, ארנקים וצעיפים |
| דלארטה | 03-5466993 | ת"א | תיקים וארנקים |
| סופיה | 02-5276562 | ירושלים | תכשיטים וצעיפים |
| זנוקה | 04-8730543 | קרית מוצקין | תכשיטים וצעיפים |
| שינא | 052-3512268 | נהלל | תכשיטים וצעיפים |
| | | | |
| | | | |
| | | | |
| | | | |
| | | | |
| | | | |
| | | | |
| | | | |
| | | | |
| | | | |
| | | | |
| | | | |